The Not So Basic, Problem Gambling Basic Training Overhaul

Tana Russell, SUDP, NCTTP, WSCGC-II
Assistant Director
Evergreen Council on Problem Gambling
How the new format was born
Converting the 30-hour basic training program from a face-to-face environment to a virtual environment was a challenge, thanks to the pandemic, but I think there's been some great benefits to the new virtual format. We decided that 30 hours of training in a single week online would be way too much for learners and trainers alike, so the program got re-vamped. First, the name officially changed. It was generally referred to as the "Intro. Training" or "Basic Training", but the reality is, there's nothing basic or introductory about it. This course builds on a strong foundation in counseling. The Basic Training course was originally designed for those who seek an advanced specialty to be able to effectively address gambling-related issues and Gambling Disorder, so it has been re-named Gambling Counselor Core Training (GCCT). The virtual class contains the core content to start treating Gambling Disorder. However, even at 30-hours, it's just the tip of the iceberg. Learners often finish the program feeling like they've absorbed way more than they expected, and excited for opportunities to dive even deeper into each section that is covered, such as how problem gambling relates to trauma, social justice, specific populations, and other co-occurring disorders. The second major change was splitting the program into two parts. The curriculum got a major overhaul and was divided into content that could be delivered in an asynchronous self-directed format, vs. content that would be better learned live and interactively for the sake of skills practice, Q&A, and discussion. It just happened to work out that 10-hours could be delivered asynchronously, and 20-hours would be better learned live and so the 10/20 format was born. Another benefit of offering it virtually is the ability to partner with a wide variety of trainers throughout the full program, rather than just 1-2 for a whole week, which gives learners a rich variety of professional expertise and teaching styles to benefit from.
What learners can expect
The Self-Directed portion (Part 1) of the GCCT program opens to registrants with ample time for them to complete the 10-hours prior to the 20-hour live-webinar portion (Part 2). Part 1 provides foundational knowledge about gambling, recreational gambling, problem gambling, Gambling Disorder, screening and treatment best-practices, legal issues, and more. Learners watch recorded presentations of the material with the ability to download the slides and follow along with the speaker and answer some learning quiz questions to help retain key points. The modules also contain handouts, treatment tools, worksheets, and links to a host of online resources. The self-directed learning system also serves to provide all the handouts needed for Part 2. If learners wish to print everything out to create a binder, they can, or just keep it all saved in their own digital files. This program basically gives counselors a full set of materials to start a practice in treating problem gambling and Gambling Disorder and affected loved ones. The number of materials received usually surprises people.
The live-webinar portion (Part 2) consists of 4 days of webinars, 5 hours of sessions per day, with breaks. Some sessions are presentation-style, some are 90% interactive. There's a lot of skills-practice, including completing gambling screens, assessment and supervision role play, creating mock treatment plans, etc. There's also a lot of rich discussion, particularly about attitudes and biases as it relates to gambling, money, social class, social justice, intersectionality, and "the isms" (racism, agism, sexism, etc). All these things come into play for counselors, their own views, those of their clients, and how their clients are treated by society and even their own families.
An un-spoken benefit
One thing that I think a lot of attendees get out of the GCCT training, but that we certainly can't guarantee, is a network of peers and friends. Anyone who goes on to get the Gambling Counselor Certification must get continuing education in order to keep renewing it, which means they see each other a lot at trainings, and even other related events. I hope one day a high awareness of problem gambling will create so many training opportunities out there that GCCT attendees are unlikely to run into each other again, but the reality is that with only 35-40 gambling counselors in the state, and even fewer prevention specialists and peer/recovery coaches specializing in this, that many get to know each other pretty well, or at least know of each other. It's kind of a family. It's a big ocean with just a few fish, which means there's plenty of work to go around. The biggest job we all take part in is raising awareness…awareness that gambling can be addicting, and it can be deadly, that it's preventable, that it's treatable, that help is available (and for low-cost or free, in some instances), that life-long recovery is possible, and that there's hope.
Who does/can take this training?
In short, anyone who wants to. Most are clinicians seeking to expand their skills into treating Gambling Disorder, and there's others we also see come through quite often.
It was originally designed for counselors who plan to go on to obtain the Gambling Counselor Certification (state or international). The training is only one piece of what is generally a 2-year Certification process, and only those who meet the license and education requirements are eligible, so it's very important that anyone who wants to obtain the Certification thoroughly researches it and understands the process they'd be signing up for. (Find out more about the Gambling Counselor Certification requirements and process here.)
We also see a lot of peer and recovery coaches takingthe GCCT. Peer and Recovery coaches do not necessarily need all the clinical pieces such as assessment, diagnosing, treatment and so on, so we've designed a 1-day program specifically for peer/recovery coaches, soon to come 2022. (Email trussell@evergreencpg.org if you're interested in taking the Intro. To Problem Gambling for Peer/Recovery Coaches training when it becomes available.)
We also often have gaming industry employees attend the training. They bring a lot of value to the discussions because of their experiences and perspective from the industry, their knowledge about gambling, concerns about guests, wanting to learn more to be able to help people who might be dealing with problem gambling, and their intentions to take it back to their team to share the information. ECPG's RG STAR program (Responsible Gaming Staff Training And Resources) trains frontline staff on how to respond to concerns about guests' statements of gaming-related problems, and trains supervisors and ambassadors to have responsible gaming conversations with those guests and make referrals to help resources. Gaming facilities can also take steps to be Certified as a Responsible Gaming Member, which includes completion of the RG STAR training and a checklist of RG policies and procedures. (Find out more about RG STAR and Responsible Gaming Certification.)
---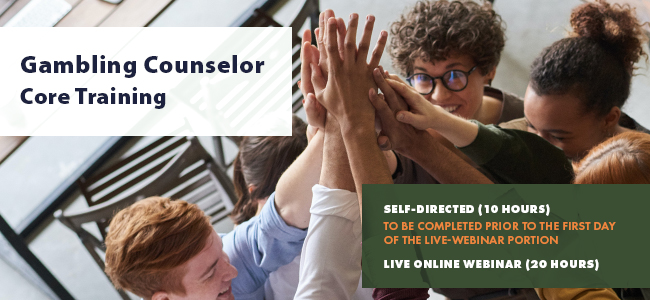 Gambling Counselor Core Training (GCCT)
SAVE-THE-DATE!

Online (Virtual) – January 29, 2023-February 1, 2024
Mark your calendars now so you don't miss this training. More details to be announced soon.
This 30-hour training (10 hours Self-Directed; 20 hours in-person) meets requirements for the 30-hour Gambling-specific Introductory Training for Level 1: WA State Gambling Counselor Certification and/or certification through the International Gambling Counselor Certification Board.