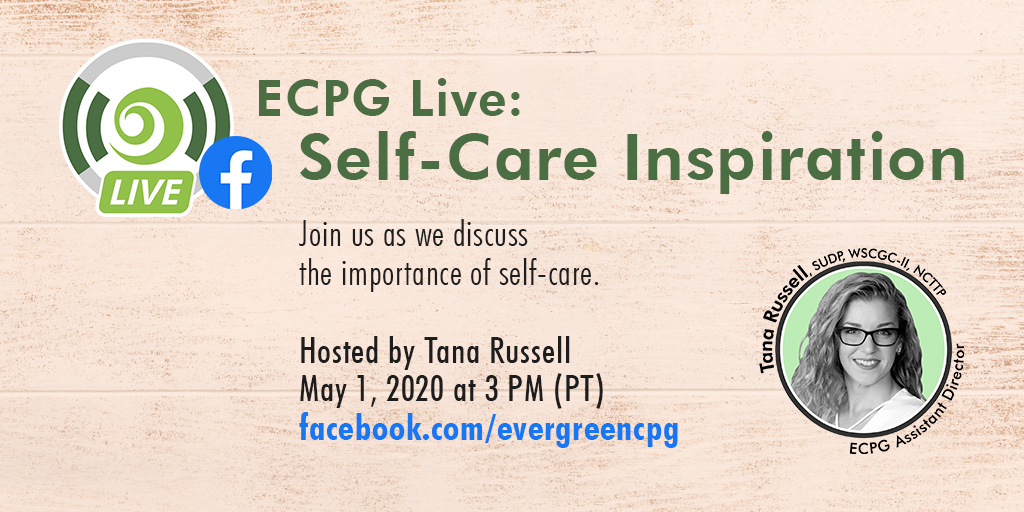 Join us as we discuss the importance of self-care, hear from the ECPG staff on ways they stay healthy – emotionally and physically, and share what you have done for your own self-care. Your self-care methods may be inspiration for others, let's share good ideas!
Resources:
Virusanxiety.com | Resources for anxiety and your mental health in a global climate of uncertainty
Mentalhealthfirstaid.org | How to Help Someone with Anxiety or Depressions During COVID-19
Chopra.com | Anxious About the Coronavirus? Here Are Eight Practical Tips on How to Stay Calm and Support Your Immune System
Network for Public Health Law | Supporting Mental Health in the COVID-19 Pandemic
Suicide Prevention Resource center | Resources to Support Mental Health and Coping with the Coronavirus (COVID-19)
Dadsmove.org| To strengthen the fathers role in raising children with behavioral health needs through education, peer support and advocacy
Calm App | Find Your Calm — Sleep more. Stress Less. Live Better.
Headspace App | We'll teach you the life-changing skills of meditation and mindfulness in just a few minutes a day.
Insight Timer App | the largest free library of guided meditations on earth
User Recommended Podcasts
During our live broadcast users gave us their podcast recommendations and we listed them below.
"Unlocking Us" by Brene Brown
"Armchair Expert" by Dax Shepard
"Life is Short" by Justin Long
"Ask Me Another" by NPR
ECPG is not affiliated with, sponsored by, or responsible for any of the content provided by any of the resources listed in this blog.