To cap off 2015's Problem Gambling Awareness Month we've launched our social media campaign on freemium games. What are freemium games? If you've ever played free games via Facebook, or downloaded apps from Google Play or iTunes, chances are you've played a freemium game. In fact, freemium apps are are such a large part of the digital market, they account for 98% of the revenue in Google Play and 92% in iTunes. Apple recently changes the verbiage from "free" to "get" on these types of apps to denote that there are in-app purchases involved in the experience. While technically these games are free to play, they all offer ways to spend real money on virtual goods, and for some this can mean big purchases and big trouble. One popular Facebook game, Candy Crush Saga, has many stories about users becoming addicted and spending more money than they intended, all on a seemingly free and fun way to pass the time.
There are thousands of freemium games beyond Candy Crush Saga, and many of them are casino-themed. These poker and slot machine games are so popular, they made up 11% of Facebook's total revenue in 2014. Not only do they also offer in-app purchases, wherein players buy fake money with real money, but the stakes are much higher, with some packages costing up to $1,000 for virtual chips. But despite paying real money to play games of chance, these games are not considered gambling, because the player isn't risking anything up front, and they can't win real money back in the game, just virtual goods. But this is a very new and very grey area, and just like with real gambling, the same standards of playing responsibility apply.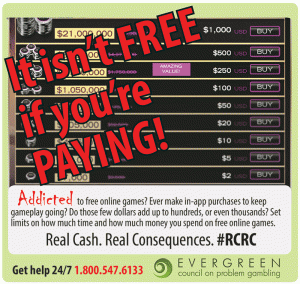 Tips for Gaming and Gambling Responsibly:
– Gamble or game only if it's fun
– Set a time limit and a dollar limit and stick to it
– Break up gaming activity with other hobbies
– Accept losing as part of the game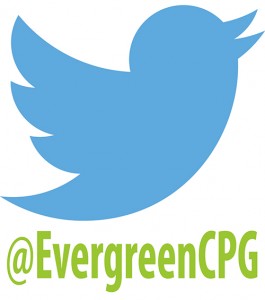 To find out more about the #RCRC campaign, visit us on Twitter @EvergreenCPG and Tweet using #ProblemGambling and #RCRC to start the conversation.
If you or someone you know has a gambling or gaming problem, help is available. Treatment works. Call ECPG toll-free, 24/7 at
1-800-574-6133

. Translation available.