//
Gaming and Gambling Addiction Experts React: Genshin Impact
Gaming and Gambling Addiction Experts React: Genshin Impact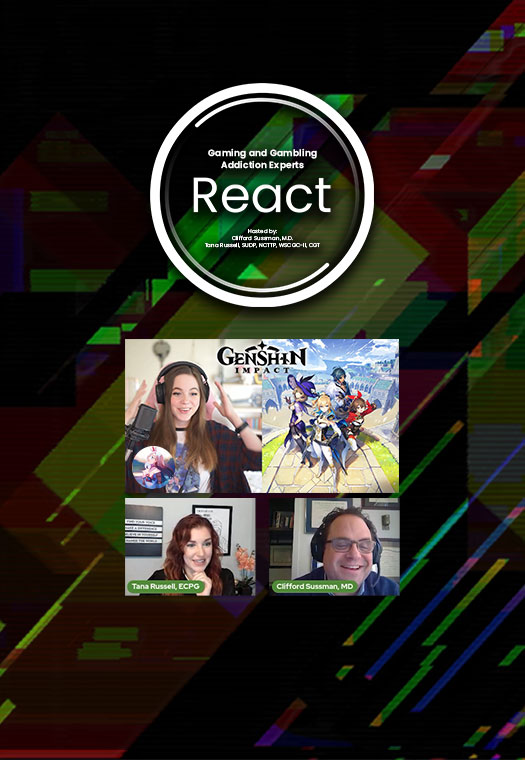 Gaming and Gambling Addiction Experts React
Gaming and Gambling Addiction Experts React: Genshin Impact.
Watch Tana Russell, Assitant Director ECPG, and Clifford Sussman, MD, react to Genshin Impact.
Subscribe and hit the bell so you won't miss future videos
---
Resources:
Connections Podcasts Episodes on the Topic
Equity in Gaming
Connections welcomes Kelvin Peprah, MA, LMCH, advocate and therapist on cultural/racial identity issues with a passion in working with youth and students of color. We talk about how people of color are represented in video game characters, players, and streamers, and what kind of impacts this might have on young gamers. As well as the opportunities and potential that the gaming industry has to reduce discrimination and promote social justice and equity. Have you noticed a difference?
What's Trending?
Julie and Tana discuss the current trends in gaming and gambling convergence, including loot boxes and other monetization strategies within video games. They discuss a 2021 report from GambleAware (linked below) which reviews evidence that links loot boxes to problem gambling and problem video gaming, and provides recommendations for future policy. They discuss what video game warning labels mean, and how that might change if loot boxes start being regulated as gambling. They also talk a lot about food.
Recovering from Video Gaming Addiction
We interview Jon, a successful graduate of the residential treatment program at reSTART Life, a center specializing in Behavioral Addictions and co-occurring conditions such as video gaming, compulsive tech use, gambling and more. He talks to us about how his video game play started at a young age, turned into gambling inside video games, progressed through his teens and ended after one of the worst years of his addiction, when he finally found treatment that addressed "the tech side of things." Find out what he did to be successful not only with staying game-free for the past 3 years, but managing healthy tech and screen use throughout his daily routines. We hope that you will be inspired, as we were, and find hope.
ECPG LIVE! Video Episodes on the Topic
Gaming Culture 101
Have you ever heard others talking about video games and felt completely lost? In this episode, guests that are both gamers and gaming addiction therapists give us the 101 on gaming culture, what's expected, what's taboo, the lingo, and what to do if you think you or someone you know might be gaming too much.
What is Gaming Disorder
Join the conversation and learn about gaming disorder and the developing prevention, treatment, and recovery landscape.