//
Washington Recognizes Problem Gambling Awareness Month
Washington Recognizes Problem Gambling Awareness Month
"It's a great time to celebrate the lives of everyone in recovery from problem gambling, free to live their best lives." –Tana Russell, Assistant Director, Evergreen Council on Problem Gambling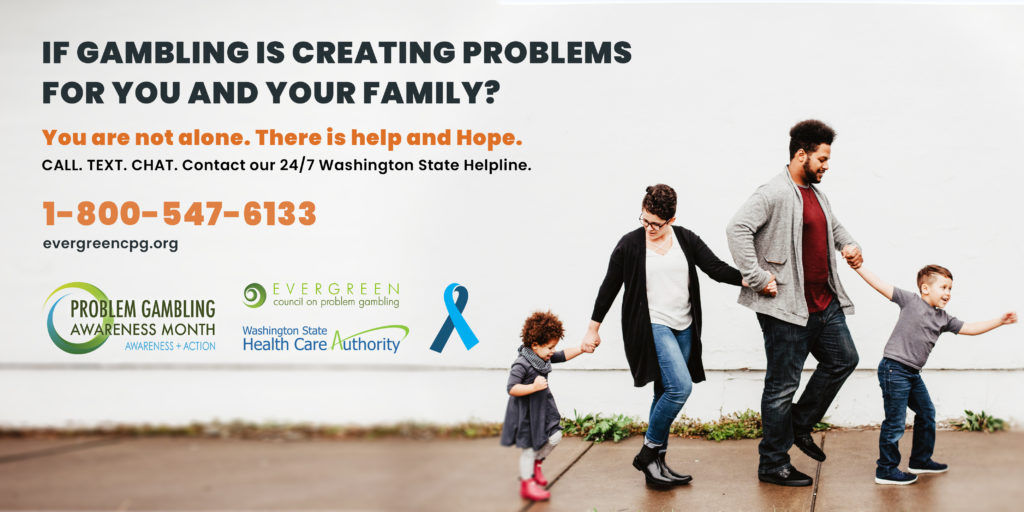 OLYMPIA, WA, March 10, 2021 /24-7PressRelease/ — Across the United States, March is recognized as Problem Gambling Awareness month. The Evergreen Council on Problem Gambling (ECPG), an affiliate of the National Council on Problem Gambling (NCPG), is raising awareness of how problem gambling impacts individuals, families, and communities with a statewide media campaign produced in partnership with Washington State Health Care Authority at the Division of Behavioral Health and Recovery (DBHR).
Problem Gambling Awareness Month (PGAM) is a time to increase public awareness of problem gambling and the availability of prevention, treatment, and recovery services, as well as to encourage healthcare providers to screen their clients for problem gambling and to make referrals for help services.
Problem Gambling (or disordered gambling) is often considered a hidden addiction because it can go unnoticed or be obscured by other disorders such as substance abuse disorders or a wide variety of mental health issues. Approximately 2 million (1%) of U.S. adults are estimated to meet criteria for Gambling Disorder, and another 4-6 million (2%-3%) would be considered within the full spectrum of problem gambling.
The goal of the campaign is to help those negatively impacted by gambling to take the first step and make a connection for information and treatment services by calling the Washington State Problem Gambling Helpline 1-800-547-6133. The confidential Helpline is available 24/7 and accessible by phone, text, or via chat: https://www.evergreencpg.org
March 2021 Washington State Problem Gambling Awareness Month
Governor Inslee has proclaimed March 2021 as Problem Gambling Awareness Month in Washington state. There will be events throughout the month of March that will be promoted by ECPG and its partners. More information on events and resources can be found by visiting: https://www.evergreencpg.org/awareness/pgam/pgam-resources/
National Gambling Disorder Screening Day:
National Gambling Disorder Screening day is March 9, 2021, a day where healthcare providers and treatment centers are making gambling screens available to the public, answering questions, and providing referrals for help. A Gambling Disorder eScreener can be found at the Division on Addiction website: https://www.divisiononaddiction.org/outreach-resources/bbgs-e-screener/.
Problem Gambling Twitter Chat Tuesdays:
All are welcome to join directly in the Twitter Chat Tuesday conversations by logging in to Twitter @EvergreenCPG, every Tuesday throughout March. Each week is a new topic, with experts and guests adding to the discussion from around the globe on topics of gambling screens, women's health and recovery, neurobiology, substance use issues, and healthcare heroes. #PGAMChat #AwarenessPlusAction
ECPG LIVE! Broadcast Episodes and More:
Viewers can tune in to a variety of ECPG LIVE! streams on Facebook and on YouTube, including many educational topics from world-renowned speakers, such as Get Ready for Gambling Disorder Screening Day.
Connections Podcast:
Podcast listeners will find Connections: Healthy Gambling and Gaming to be a fresh approach to talking about life and recovery from gambling and gaming addictions. Available on most podcast platforms. Connections Podcast has been developed in partnership with the Oregon Council on Problem Gambling (OCPG) and is hosted by Tana Russell, Assistant Director, ECPG, and Julie Hynes, Executive Director, OCPG.
Evergreen Council on Problem Gambling Celebrates 30 Years of Service:
ECPG is celebrating 30 years as a non-profit service organization in 2021, providing training, treatment, awareness, and recovery support services for problem gambling. ECPG provides training and supports Certification for Washington State Certified Gambling Counselors. ECPG provides Responsible Gaming Certification and training for gaming industry members. ECPG also offers a variety of trainings on Gaming, Cultural Awareness, Recovery Supports and Coaching, and more.
ECPG has provided the Washington State Problem Gambling helpline for more than 25 years, and has helped between 5,000-10,000 callers per year. The helpline is confidential, available 24 hours a day, 7 days a week, and connects people to free or low-cost treatment services closest to them.
If gambling is creating problems for you and your family, there is help and hope.
Help Starts Here.

Call. Text. Chat.
1-800-547-6133 or visit www.evergreencpg.org
Recursos en español: https://www.evergreencpg.org/es/
About Evergreen Council on Problem Gambling
Evergreen Council on Problem Gambling (ECPG) is committed to providing services and programs for individuals, their families, employers, students, treatment professionals, and the greater community through problem gambling treatment support, information and education, advocacy, research, and prevention efforts.
For more information visit: https://www.evergreencpg.org



About the Washington State Health Care Authority Problem Gambling Program
The Washington State Health Care Authority (HCA) is committed to whole-person care, integrating physical health and behavioral health services for better results and healthier residents.
For more information visit: https://hca.wa.gov/