//
A Record 50.4 Million Adults Planning to Bet on Super Bowl LVII
A Record 50.4 Million Adults Planning to Bet on Super Bowl LVII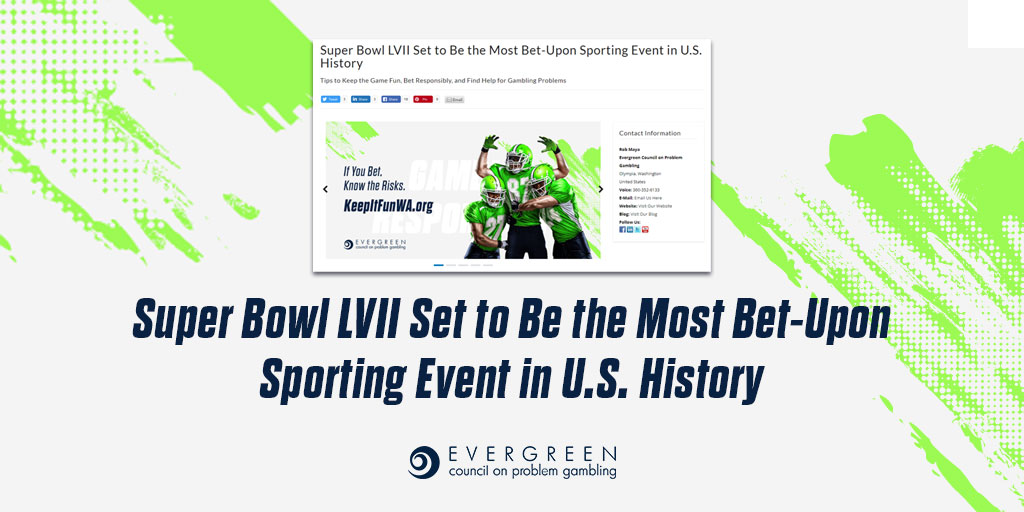 For immediate release:
Tips to Keep the Game Fun, Bet Responsibly, and Find Help for Gambling Problems
Olympia, WA (February 9, 2023) A record 50.4 million American adults (20%) plan to bet on Super Bowl LVII, according to a new American Gaming Association (AGA) survey1. An estimated $16 billion in wagers will be made online, at retail sportsbooks or with a bookie, or in casual wagers with friends or as part of a pool of squares contest. That will make this year's Super Bowl the most bet-upon sporting event in U.S. history.
Washington is among 33 states and Washington, DC, that offer legal sports betting. In WA — Sports wagering is legal at Tribal Casinos that have it provided in their Class III Gaming Compacts. Ten Tribal casinos currently offer retail sports wagering, when the wager is placed and accepted at a tribe's gaming facility while the guest placing the wager is physically present at that gaming facility. Specifics on betting through mobile apps or the Internet and where those wagers can be placed while at a tribal casino are determined by each tribe, according to the Washington State Gambling Commission2.
Any other type of sports book, or bookmaking is illegal in Washington State. This puts those who bet at risk for identity theft, deposit losses, and unpaid winnings they can't collect.
"Sports Betting is among the top two types of gambling associated with problem gambling, second only to video lottery terminals," said Maureen Greeley, Evergreen Council on Problem Gambling Executive Director. "While most people can enjoy gambling for entertainment and recreation, anyone can develop problems. That is why it is important to be aware of the risks – particularly when gambling interferes with finances, relationships, or work. Gambling Disorder is a public health issue – People understand that drugs or alcohol can become problematic – so can gambling. Gambling problems can become progressively worse with increased intensity and frequency."
An estimated 90,000 – 100,000 WA State adults are impacted by moderate to serious gambling problems. Help and support are available.
" WA State Health Care Authority offers free state-certified clinical treatment for individuals and their family members impacted by problem gambling/Gambling Disorder," says Roxane Waldron, Manager of the State Problem Gambling Program. For more info: https://www.hca.wa.gov/free-or-low-cost-health-care/i-need-behavioral-health-support/problem-gambling
Washington State Problem Gambling Helpline is available 24/7 at 1-800-547-6133
Sports Betting – Like Sports – Should be about fun and entertainment. Tips to Keep It Fun:
Remember Sports Betting is a Personal Choice – don't feel pressured to gamble for social acceptance.
Set Limits – Only gamble what you can afford to lose as part of your entertainment budget – never with funds intended to basic needs.
Don't borrow money to gamble.
Don't expect to win.
Balance gambling with other recreational activities – Perhaps take a break this weekend and get outside to play some touch football with family and friends!
Visit KeepItFunWA.org  for more information and tips on Keeping the Game Fun.
If you bet, bet responsibly. If you, or someone you love needs help because gambling is impacting your life negatively, call or text the Problem Gambling Helpline at 1-800-547-6133.
The Evergreen Council on Problem Gambling (ECPG) is a 501(c)(3) nonprofit organization committed to providing services and programs for those with a gambling problem/gambling disorder, their families, employers, students, treatment professionals, and the greater community through gambling addiction treatment support, information and education, advocacy, and prevention efforts. Founded in 1991, ECPG maintains a position of neutrality on gambling, recognizing that most people who gamble do so for recreation and suffer no serious problems.  However, for some, gambling becomes a serious addiction, devastating to the individual and the family.  Help and Support are available.  ECPG offers the Washington State Problem Gambling Helpline 24/7.  Call or text: 1-800-547-6133.
Press Contacts:
Rob Maya, Social Media and PR Specialist, ECPG
­­­______________________
Share this press release:
https://www.24-7pressrelease.com/press-release/498332/super-bowl-lvii-set-to-be-the-most-bet-upon-sporting-event-in-us-history
1: https://www.americangaming.org/resources/super-bowl-lvii-wagering-estimates/?vgo_ee=z5CIUcOh6ykTFr7uZgWGfjiusce8cXqEYmLVO194bqk%3D
2: https://wsgc.wa.gov/sports-wagering/sports-wagering-frequently-asked-questions